Hey, Ms. Treva, I finally got a round to it.
🙂
I was channel surfing a while back and happened upon a show (on the Travel Network I believe it was) all about famous sandwiches in America. The host, the lucky dog, got to run around the country and sample all the most celebrated sandwiches. Of course I drooled and dreamed of how fun it would be to have such an awesome job – although I may not be able to afford the damage to my mid-section. At any rate, it got me thinking, sandwiches are the perfect summertime food. No slaving over a hot stove or hot oven, hallelujah! In fact, I could serve them once a week, even make a special day for it – like "Sandwich Sunday" (sort of like "Taco Tuesday" and "Meatless Monday"). I'm really kinda digging this idea. I think my Dagwood husband would be rather pleased with the idea as well! He's such a sandwich guy. 😉
.
Kid Favorites
Grilled Cheese (served with Tomato Soup of course)
Does anyone ever out-grow grilled cheese? Honestly, my sixty-something man is still tickled when I set a grilled cheese sammy and a cup of tomato soup in front of him. Great inexpensive meal that's easy to whip up for the two of us!!!! He likes his grilled cheese ooey gooey with white American and spicy Pepper Jack cheeses on buttered sour dough. It has to be real butter though, and real sour dough. Sometimes I use Texas Toast, and that is satisfactory to him. If I tuck a slice of grilled ham in the center with the cheeses, and a few slices of pickled jalapeno he becomes especially giddy. And it's even better with a little sprinkle of garlic powder on the buttered side of the bread. Mmm mmm good!
Our favorite prepared tomato soup is La Madeleine's, which comes in a jar and is creamy and delicious. We also like Amy's. They are both really good mixed together, creamy + chunky and with a garnish of fresh Basil ribbons from my garden! YUM!!!
NOTE: Cheddar, Colby, Monterey Jack, Asiago, Fontina, Gouda, Gruyère, Havarti, Muenster, blue cheese, and soft cheeses such as Brie and Camembert also melt well, Remember to remove the rind if using a cheese with one.
Grilled Cheese kicked up a notch: lightly toast 4 pieces of sour dough bread and butter them lavishly on one side. Lay the slices buttered side down on a cookie sheet. Lay a thick slice of Gruyère on each piece of toast and set under the broiler until the cheese is just melted. Lay two or three pieces of crispy fried bacon on top of the melted cheese. Toast four more slices of sour dough bread and butter them on one side. Spread a layer of chunky apple butter or fig jam on the unbuttered side and place them jam side down on top of the bacon. Blue cheese, bacon, and fig preserves is a great flavor combination, and so is Gruyère with crispy bacon and blackberry jam. Re-create the taste of French onion soup by layering sweet, soft caramelized onions with nutty Gruyère cheese on toasted sour dough. Craving a bite that's both sweet and savory? Try combining indulgent Camembert with crisp apple slices and caramel sauce. Or try Monterey jack cheese layered with roasted poblanos and a splash of Adobo on a nice buttery egg bread. See other suggestions at Food Network.com.
PBJ (served with a big fat dill pickle and salty Potato chips)
I've been a "choosy mothers choose Jiff" kind of gal, on soft white bread, and with the traditional strawberry jam or grape jelly, or sometimes with creamy honeycomb honey spread over buttered bread for as long as I can remember. The sandwich in my photo above was made with crunchy Peter Pan and my own homemade Texas grape jelly. I wish you could taste how delicious it is. Best grape jelly I've ever had in my life!!!!! I'm telling you, that sandwich barely made it through the photography session. I couldn't wait to lick the drizzle dripping down the front. This is a picture of my wonderful grape harvesting experience. You can't tell in the photo, but it was about 107 degrees that day, which made picking a pretty sweaty experience. It was so worth the trouble though. Oooo man.
Okay, now the great debate: What sides go with a PBJ? Well, the old stand-bys when I was a kid were Campbell's Chicken Noodle Soup, potato chips, dill pickle, fruit, or raw veggies. What were yours?
And then came the day that I thought to myself, like all the great thinkers before me, "What if…" and so I tried a PBJ HOT, and you know what? Not bad. Pretty darn delicious really, and kind of like stuffed French toast! I used my sandwich maker. Remember those? Do they still make them???
MrsH's PBJ Stuffed French Toast
Preheat sandwich maker. Dot each cavity of the sandwich maker with butter just before placing sandwich on it. Make a peanut butter sandwich exactly the way you normally would with your favorite jam (I make a lot of homemade jams or fruit compotes and some of my favorites have been South Texas Grape jelly, Bourbon Habanero Apricot, Strawberry Rhubarb, Spicy Peach, Pecan Fig with lemon rind, Crab Apple Butter, Blueberry Lemon, and these wonderful bitter little kumquat type fruits that grow on a tree in my daughter's yard made into marmalade – with a hint of vanilla bean – oh my it's delicious).
Use a pastry brush to spread your egg/milk (French Toast) mixture on one side of your sandwiches and then lay them in the sandwich maker. Quickly brush on egg/milk mixture on the top slices of bread, dot with a little pat of butter, and close the lid over on the sandwiches and snap it closed. Cook as directed in the owner's manual. *The reason I don't dip my bread in the egg/milk mixture is that I think it makes the bread too soggy.
.
Turkey
Hot Brown
This is an open-faced sandwich made famous for being served at the Kentucky Derby. Start with Texas toast, then layer on slices of turkey. Cover with a peppered white cheddar cheese sauce. Sprinkle with cheddar and parmesan cheese (broil to melt). Lay two slices of fresh heirloom tomato, two slices of crispy fried bacon, and finally garnish with sliced green onion and chopped parsley.
Thanksgiving left-overs Turkey Sandwich
We've all made these, but how do you like yours? My dad liked his plain Jane: leftover yeast roll spread with butter, turkey, salt and pepper. The end!
I always liked to add some lettuce to mine. Then as I grew up I realized this sandwich could be a mini feast on bread, starting with soft wheat bread, lavished with mayo, a thin layer of stuffing, a chopped up jalapeno popper, sliced or pulled turkey (salt & pepper), maybe a thin slice of ham, a little spread of cranberry sauce, some sliced onion, and romaine lettuce. Tah-dah!
Turkey–Bacon Club
This is just as yummy on a hogie roll, or stuffed inside a pita as it is on nice soft wheat bread lightly toasted. Mayo, lettuce, onion, tomato, turkey, turkey bacon (fried crispy) and then repeat layers. Dagwood would approve!
Ham
Hot Ham & Cheese
In Paris Croque Monsieur is sold from pushcarts on streets all over the city. Croque Monsieur is a classic French ham and cheese, straight from the streets of France. Savory sliced smoked ham and Swiss with a garlic cream Béchamel sauce and baked on fresh wheatberry bread. Bake this sandwich in the oven until it is hot, the cheese is melted, and the top is golden brown. Below a hot ham and cheese on rye is shown with a bowl of Polish Sichi.
Monte Cristo
A deep-fried ham and cheese sandwich, often served with a sweet jam dip. This looks like a pretty awesome recipe from Ashlee Marie!
MrsH's Ham Salad (Deviled Ham) Sandwiches
I usually always make this sandwich filling with leftover Easter ham (glazed spiral cut smoked ham). I have an old meat grinder that my mother-in-law gave to me, which works perfectly for grinding the ham into the perfect texture. To the ham I add mayo, mustard, horseradish, minced onion, pickle relish, and spices (cloves, pumpkin spice, allspice). These have been popular sandwiches for my Bowling League pot lucks, church pot lucks, Bunco, tea parties, baby showers, and so many other parties. My husband loves when I make a big batch of these, cut them into small triangles, stack them on a tray, wrap them up, and put them in his man-cave fridge so he can snack on them for several days. Don't tell him but I often sneak out and steal one or two or three before they're gone.
.
Chicken
Chicken & Waffles
First you must have freshly made Belgian type waffles (the real authentic ones are made with yeast and pearl sugar – if you can find the pearl sugar please let me know where you got it in the US). You can add bacon and cheddar or chopped pecans to the waffle batter before making them. Season the flour for chicken breast pieces either with a Kentucky blend of traditional spices (oregano, garlic, thyme, salt, pepper, and paprika), or a spicy Cajun blend (basically the same but add cayenne powder and a little brown sugar). Brine your chicken breasts in a salt-water brine for a day, then cut the breasts into tenders. Dip each piece in a buttermilk egg wash and then dredge in seasoned flour mixed with a TBSP of cornstarch, and drop into hot oil in a cast iron skillet until crispy golden. Lay a waffle square on a plate and butter it. Lay three tenders on top and drizzle the whole mess with a honey maple butter dressing of one part melted butter, one part maple syrup, and one part Dijon mustard. Or serve with a Redeye gravy made with coffee, Jim Beam, and bacon. Sprinkle some chopped chives for garnish.
MrsH's Chicken Salad Sandwiches (for a crowd)
Click here for my recipe for this mouth watering, highly sought after recipe that will have your bowling league, your Bunco party, your Bridge Club, or the election judges and clerks you work at the next elections begging for the recipe!!!!!  >>>>>>>>  MrsH's Chicken Salad for a Crowd!!!!!!  Serve with a raw veggie medley (carrot, celery, cucumber slices), or seasoned cottage cheese, or your favorite chips (I am a Sun Chips gal from waaaaay back), or all three…plus a nice iced Chai latte to wash it all down!
The Yard Bird
This famous sandwich from Slows BBQ restaurant in the Corktown neighborhood of Detroit. Smoked pulled chicken breast mixed with some mustard based BBQ sauce and sautéed mushrooms, then piled on a buttered and toasted hamburger bun that's been spread with a little mayo, topped with 2 pieces of almost crispy Applewood bacon and some shredded cheddar cheese. Slap on the top half of the bun and there you have it! The only thing to make this sandwich better is a Faygo and a bag of Better Made. Who you lookin' at?
Shawarma
Hot-off-the grill marinated chicken is tucked into thick, soft pitas, along with lots of bold but mellow garlic sauce, and freshly sliced tomato and romaine.
Chicken Parm
Chicken breasts, sliced and pounded flat
Italian Bread Crumbs mixed with an equal portion of Panko Bread Crumbs
Eggs, beaten
Dip chicken breasts in egg, then toss in bread crumbs until coated. Bake in 350 degree oven for 20 minutes, or fry in oil in frying pan until golden on both sides. If baking, top each chicken patty with a slice of mozzarella cheese and keep in oven until cheese melts. If frying, place a slice of mozzarella cheese on top of each piece about 4 minutes before removing from pan. Remove to paper toweling.
Butter and toast Kaiser rolls in the oven or on griddle. Place a chicken patty on the bottom piece of each roll. Spoon a generous portion of warm marinara sauce on top of each, possibly some basil leaves and mozzerella and/or parmesan cheese and broil it to melt the cheese. Place the top portion of the roll on top and serve.
.
Beef
Philly Cheese Steak
Gyro
Brisket Sandwich
This is how we do it in Texas y'all!!!!
Reuben
Hot Pastrami
Meatloaf Sandwich
A great meatloaf sandwich starts with a great meatloaf. Shuffle on over to my "Worst Meatloaf on the Planet" recipe >>>click>>>(((( HERE ))))<<<click<<<!!!!!!
Italian Meatball
Hot Roast Beef (served open faced)
Sloppy Joe
French Dip
Jazz yours up with caramelized onions, sauteed bell pepper (chopped), melted provolone and house-made horseradish sauce baked on a sourdough roll. Served with au jus.
Fried Bologna
Steak or Chicken Rancheros Gordita (or torta)
Beef Patty Melt Sandwich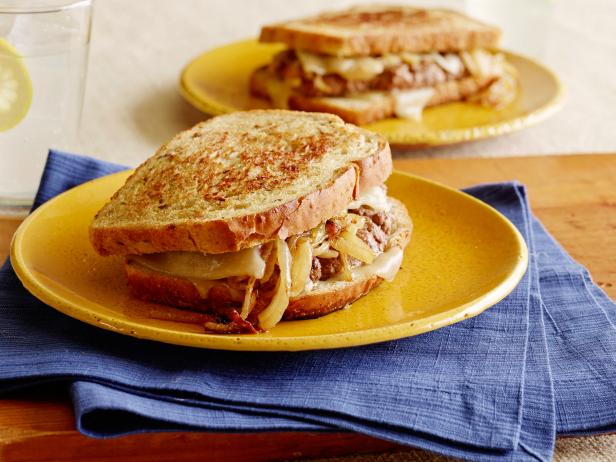 Pork
Pulled Pork Sandwich
BLT
I make a Rosemary mayo for my BLT's (Mayo and chopped rosemary, salt, pepper), and sometimes lay a ring or two of red onion, and slice or two of avocado on mine. I like the hardwood smoked bacon the best, fresh romaine lettuce, and black heirloom tomatoes. I prefer it on lightly toasted wheat bread, but have also made it like a giant sub using a fresh french loaf from the bakery. Good way to feed a crowd for family supper night. This is possibly my very favorite sandwich of all time. I tend to make a pig of myself with these!!!! LOL
P.S. I was in a pinch one day a couple years ago with two hungry men and nothing to feed them as I hadn't gone to the store. I searched my pantry for edibles I could throw together quickly and ended up with a can of Bacon flavor Spam in my hand. I cut it into fairly thin slices, maybe 1/4″ and fried it crispy on both sides and made BLT's Spam-L-T's with it. The men loved it. They loved it so much that I make it for them fairly regular now.
Smoked Sausage (Kielbasa) Sandwich
Start with a wide loaf of pumpernickel bread sliced thin and lightly toasted. split kielbasa in half lengthwise and then into lengths that match the width of the bread longways. Lay a slice of provolone cheese on the bread, and then squirt with a spicy course mustard, honey mustard, or mustard based BBQ sauce, then layer on a pile of squeezed dry sauerkraut – preferably a German variety. Top that with two or three pieces of keilbasa that has been fried crispy. Place another slice of cheese and then bread, then butter and grill like you would a grilled cheese sandwich.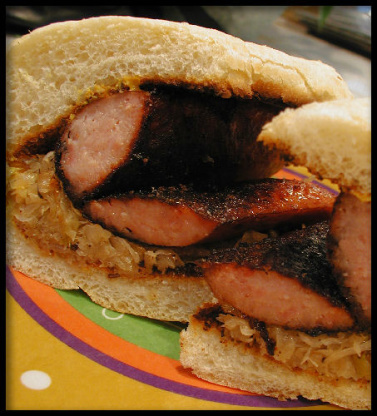 .
Seafood
Poor Boy (or Po-Boy)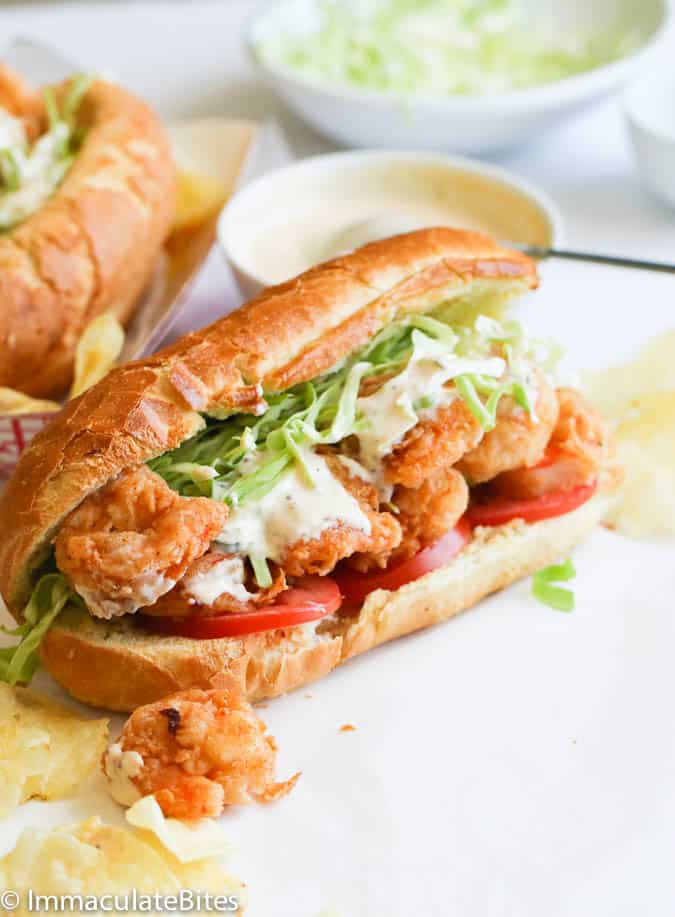 Lobster Roll
Warm buttery Connecticut version
https://www.foodnetwork.com/fn-dish/recipes/2016/07/maine-versus-connecticut-style-lobster-rolls
Cold lobster salad Maine version
https://www.foodandwine.com/recipes/maine-lobster-roll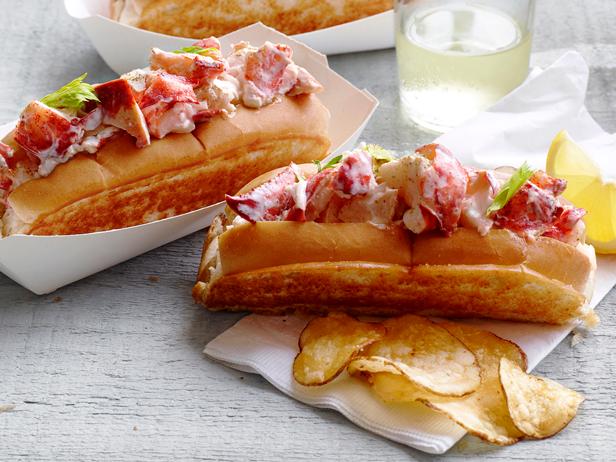 Filet O' Fish Sandwich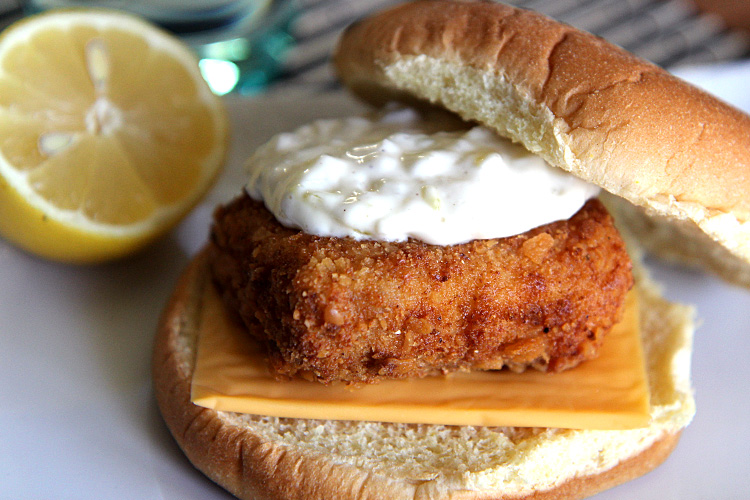 Tuna Salad
Does anybody really have a recipe for this? Honestly, I just dump everything in a bowl and mix it up. I start with tuna packed in water. I drain off all the water and sprinkle on some dill weed and cracked pepper and then drench the tuna in lemon juice and let it sit while I chop up all the other ingredients. I chop up about half a small white onion, add to the onion about 2 tablespoons of sweet pickle relish and 2 tablespoons of dill pickle relish. I chop up a rib of celery, half of a bell pepper or jalapeno, and maybe 2 radishes. I then mix about a tsp of lemon pepper into a half cup of mayo and add the drained tuna, and then stir everything together. If it doesn't seem creamy enough I add a little bit more mayo. Here is shown my tuna salad on a tomato, sprinkled with a little fresh dill weed, but it is lovely on bread with a leaf of romaine.
I have also been known to lightly toast a bagel and then quickly lay a slice of swiss or provolone on the halves while they are still hot from the toaster, let the cheese melt, and then top each with a heap of tuna salad, for an open-faced tuna salad sandwich.
Aaaaaand I've also grilled tuna salad between slices of sour dough or wheatberry with swiss or provolone. If you like pasta salads, I've also mixed my tuna salad with macaroni or skinny ziti and served it with tomato, lettuce, cucumbers and a slice of toast. It's all good!
.
Mixed Meats
The Dagwood
Muffuletta
(This is NanaBread's Muffuletta Sandwich recipe, since she is Cajun and I am not)
1 round sourdough bread boule
2 Tbsp. extra-virgin olive oil
1 pound thin-sliced deli ham (not a sweet one; use old-fashioned baked ham) (The traditional has ham, mortadella, and salami)
4 slices of provolone cheese
1/3 cup of mayonnaise (not Miracle Whip, people; use the good stuff)
1 small can of chopped black olives (4.25 ozs.; you only need half of the can)
24 small pimento-stuffed green olives
2 Tbsp. of juice from the green olive jar (trust me)
3 Tbsp. Italian Olive Salad Mix (optional, but use it if you can find it)
– – – – – – –
Start by slicing your sourdough boule horizontally; you'll want the bottom to be about 1″ thick. Using your fingers or a spoon, remove some of the excess bread from the top, leaving a deep indentation in the dome of your boule. Drizzle one tablespoon of extra-virgin olive oil over each half of the bread. If you need to, use your fingers to work the oil out to the edges and into the nooks and crannies. Place both halves oiled side down on a griddle until the bread is a beautiful golden brown. (If you don't have a griddle, a non-stick skillet works just as well.) I also like to weigh down the top so the surface is pressed down onto the griddle.
While the bread is toasting, chop the green olives, open the can of black olives, and spoon out 3 tablespoons of Italian Olive Salad mix; set aside. One quick side note about the Italian Olive Salad: you may be wondering why I use olives AND an olive salad mix together. The answer is that the olive salad mix also contains a mouth-watering mix of other vegetables (cauliflower, peppers, carrots, celery) and spices preserved in olive oil. Do you have to use it? No. But if you can find it, the olive salad will add another extraordinary layer of flavor. Trust me.
There is a recipe on the jar and it is a little different than Nana's
Once your bread is toasted to a beautiful, crispy golden brown, remove it from the griddle and place both sides face up on a cutting board. In a small bowl, combine the mayonnaise and olive juice and blend until smooth (it will be a little on the thin side). Dress each half of the bread with the mayonnaise mixture. Make sure you spread it all the way out to the edges. It's imperative. Okay, really it's just so all the olives stick. Next, sprinkle your green olives and olive salad on the top half, and the black olives on the bottom half. Don't fret about separating friends. They're all coming to the party in the end. You'll see.
Layer your thin-sliced ham over the top of your black olives, making sure the ham goes all the way out to the edges again. (Remember – no honey or maple glazed ham, please! It will ruin the flavor of the sandwich. You really just need a simple old-fashioned or baked deli ham here.) Arrange your provolone cheese slices over the top of your green olives. Place both halves face-up on a baking sheet and toast them under the broiler until the ham warms and the cheese turns into this gooey, gorgeous golden hue. Remove from the broiler.
Using a spatula, flip the top half onto the bottom half to bring your sandwich together. Everyone is at the party now, and they are all getting along famously. It's world peace in a sourdough boule. Allow your muffuletta to rest for at least 5 minutes before you cut it. It will be hard. It may even seem impossible. If you need a distraction, grab an Abita Beer, a bag of Zapp's Cajun Crawtator chips, and a handful of napkins. Once you're ready, grab a serrated bread knife and cut the muffuletta into wedges, like you're slicing a pie. Mmmmm….pie.
Don't get fancy here and attempt to serve it on a real plate. This is bar hopping food. You want to slap that sucker on a paper plate or wrap it in a little butcher paper. Then settle in with your muffuletta, your cold Abita beer, that bag of zesty, crunchy Cajun crawtators and let your mind slip away to an enchanted land of live oaks, Spanish moss, warm breezes, hot beignets and hotter jazz. Oh, New Orleans…you are unforgettable. Happy Mardi Gras, y'all.
The Cuban
Basically this is a juicy pork roast, ham, and Swiss cheese sandwich with butter pickles, and Dijon mustard, on a Cuban roll that is smash grilled to perfection. You can serve it with a cup of some of the braising liquid to dip the sandwich in while you eat it, and definitely it needs to be served with a side of fried plantains sprinkled with salt.
Check out Tyler Florence's recipe at Food Network
Veggie
The Benedictine
My twist on this Kentucky Favorite (recipe found here) is the addition of very thinly sliced radishes, minced sweet onion, and a little cluster of lovely alfalfa sprouts. Otherwise it is basically a shredded cucumber sandwich.  I also like to use the veggie cream cheese that comes in the small tub to spread the bread with. Oooooo fancy!
Falafel Sandwich
Recipe courtesy of Aaron McCargo Jr. featured at Food Network.com:
2 cups dried chick peas, soaked in water overnight
2 tablespoons freshly chopped cilantro leaves
2 tablespoons freshly chopped parsley leaves
1 small onion, roughly chopped
1 teaspoon ground cumin
1/4 teaspoon cayenne pepper
1 tablespoon minced garlic
1 lemon, juiced
Pinch salt and freshly ground black pepper
Chick pea flour, if needed
—
3 tablespoons grapeseed oil, for searing
—
4 Mediterranean flatbreads (like Naan)
Arugula, for garnish
Cherry tomatoes, halved, for garnish
Red onion, sliced thin, for garnish
Smokey Tahini Sauce, for garnish, recipe follows
—
Smoky Tahini Sauce:
1/2 cup tahini paste
2 tablespoons extra-virgin olive oil
1/4 cup water
2 cloves garlic, minced
1 lemon, juiced
1 tablespoon freshly chopped parsley leaves
2 teaspoons smoked paprika
1 teaspoon salt
—
Heat a grill pan until hot.
In a bowl, whisk all ingredients until a creamy consistency is reached.
For the Falafel:
Drain the chick peas. Place in food processor along with cilantro, parsley, onion, cumin, cayenne, garlic, lemon juice, and salt and pepper. Pulse until well blended. Consistency should be in the form of a paste. Place mixture in a bowl and form into 2-inch patties.
*Cook's Note: If dry add 1 tablespoon water. If too wet, add chick pea flour.
In a large skillet over medium-high heat, add grapeseed oil. Add patties and cook for 3 to 4 minutes on each side. Remove from pan and place on a paper towel lined platter to drain. Set aside and keep warm.
To assemble sandwiches: Add flatbread to a hot grill pan, to mark and warm on each side for 1 minute. Remove. Add 2 to 3 patties to each warm flatbread. Top with some arugula, tomato, onion and Smoky Tahini Sauce
Grilled Portobello Sandwich
The best Portobello sandwich I ever had was from Alice's Restaurant in Woodside, California.
I tried hard to duplicate it for a mother's day luncheon at my house several years later. Good gracious it was delicious. I am pretty sure I found the copy cat recipe in one of those women's magazines from the 90's.
Make the dressing first so it will have time to cool.
Dressing: Place 1 cup of balsamic vinegar in a small saucepan. Bring to boil and then reduce heat to medium, stirring until vinegar has reduced, for about 5 minutes. Toss in 1 small minced garlic clove and then remove from heat. Allow to cool. Add ½ cup extra virgin olive oil and about a heaping ¼ tsp of freshly ground black pepper. Dressing may be placed in a dressing carafe to make it easier to shake and pour.
This sandwich is constructed in layers. Start by slicing sandwich size pieces of ciabatta bread (separating top crust from the bottom crust), cleaning the mushrooms, and slicing the onions. Lay the bread on a cookie sheet (crust sides down) and drizzle with olive oil. Preheat broiler (oven) and outdoor grill. Place the veggies on the grill and sear for about 3 or 4 minutes on each side until heated through. Meanwhile, place the bread under the broiler in the oven until lightly toasted. Remove bread from oven and veggies from the grill. Leave the bottom halves of bread on the cookie sheet, and the leave broiler on.
Lay a Portobello mushroom cap on top of each bottom slice of bread
Place a red onion slice on top of each mushroom
Place a slice of fontina cheese on top of each slice of onion.
Place in oven under the broiler until cheese is melted.
Arrange one or two basil leaves on top of the melted cheese
And top each sandwich with a tomato slice.
You could also certainly add roasted red pepper and avacado.
Drizzle each with a balsamic dressing (make sure to shake well for each sandwich).
Lean the top half of Ciabatta bread against the stack to serve, or place it on top and fasten with sandwich toothpicks, then slice each sandwich in half, corner to corner.
Colleen's Pimento Cheese Salad
This is another one of those recipes I just make without measuring anything. So, here we go. To a small bag of shredded Mexican blend cheese I add about 1/2 cup of Mayo, 1 Tbsp of sweet pickle relish, 1 Tbsp of minced onion, and 1 Tbsp of pimentos from a jar. Mix it up until fully incorporated. Taste to make sure it is good. If a creamier consistency is desired add a little more mayo until it's just right. Spread on white or wheat bread and serve with a nice tomato, onion, and cucumber salad.
Veggie Flatbread Sandwich w/ olive cream cheese spread
Start by drizzling the flatbread or Naan with olive oil and grilling it on a hot preheated grill on both sides just until it is lightly toasted. Spread the bread with cream cheese (plain, chive, olive, or veggie flavors all work well), and then top with your favorite veggies: sliced cherry tomatoes, marinated artichoke hearts, arugula, green or black olives, thin sliced zucchini, thin sliced red bell peppers, chopped green onions, sliced marinated mushrooms, baby spinach, thin sliced cucumbers, sliced radishes, sliced broccoli, carrot ribbons, cauliflower, etc. Season with salt and pepper. Drizzle with a garlic infused olive oil. Enjoy!!!!!
Lindee's Pinwheels
See recipe for Sundried Tomato Basil Pinwheels at Minimalist Baker
See recipe for Italian Pinwheels at Mother Thyme
Egg Salad Sandwiches
My Egg Salad is a LOT like my deviled eggs as far as they both have virtually identical ingredients. I have a girlfriend who puts chopped up black olives in hers. She says that's the way her husband's mom used to make them, and the way he likes them.
Fried Egg Sandwiches
Simple enough. A fried egg, maybe some cheese, on buttered toast. Wooooooo! Makes your tummy stop growling anyways. 🙂
.
I think that about covers it. Can you think of any sandwiches I've missed? Hope your summer is carefree and delicious!!! Happy sandwiching y'all!!!!
"If you're so hungry that you can't wait to be served, go home and get a sandwich. But by no means risk turning this Meal (communion) into an eating and drinking binge or a family squabble. It is a spiritual meal – a love feast. The other things you asked about, I'll respond to in person when I make my next visit."

1 Corinthians 11:34 MSG
Bon Appetit!!!